Streaming radio and podcast listenership has grown by a massive 300% from Jan 2017 to March 2018, according to iono.fm, which hosts the lion's share of podcasts serving listeners in South Africa.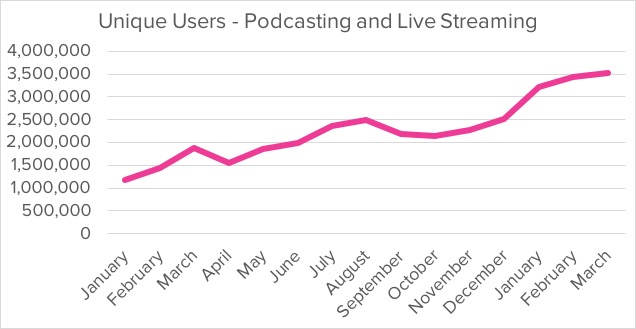 This phenomenal organic growth can be attributed to more broadcasters making their content available digitally, digital compression reducing the amount of data used when streaming and downloading, and an increase in ways that consumers can access digital audio. In 2017, iono.fm recorded an increase in the number of podcasters of 68% using their platform.
iono.fm also makes every file available at different quality levels depending on the connection speed of the user. At smaller file sizes (for 2G users) a full hour's listening uses only around 15MB of data whereas the highest level (for 4G and LTE users) that would increase to 45MB per hour. Added to these significant data savings due to advanced digital compression technology, the cost of data, in South Africa, is coming down and consumers' appetite for data is increasing with each of the three major service providers reporting 18% increases in data revenue mid 2017.
The Broadcast Research Council of South Africa shows that, in 2017, 37% of radio listeners listened, at some time, using their mobile phones and 2% via their computers.
Amazon has been credited with extending reading habits toward the 'long tail' of books. Whereas a normal bookshop may only be able to stock the most likely sellers, online bookshops can list a far larger variety of stock, thereby catering to more reader interest.
Amazon carries over 48m books and e-books which is far greater than any bricks-and-mortar store. The same 'long tail' exists for digital audio. The traditional broadcast radio format brings has limitations compared to digital audio. Traditional broadcast is limited by the available time in the day. When a station drops a programme due to lower ratings, the time slot's audience isn't guaranteed to move along with the new show. Low barriers to entry and no limitation on the amount of content a podcasting service can carry means that a far larger variety of tastes and interests can be catered for.
In the US, regular podcast listenership has grown steadily at 14% year on year (Edison research, 2017) with a total 61% of the American population tuning in to online radio.