Listeners should be able to quickly and easily follow podcast content, on our platform or via syndication platforms like iTunes. We've deployed new features to enhance this functionality for our publishers and listeners.
Listeners
We have reworked the "Subscribe" functionality on our website to be more obvious and user-friendly to listeners.
The new "Subscribe" button integrates all subscription methods available for a podcast channel: plain RSS, via an iono.fm playlist, or any syndication platforms configured for it.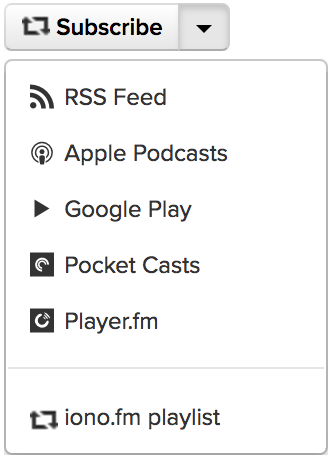 Publishers
Listing a podcast with a syndication platform like iTunes adds exposure to their audience, while still allowing publishers to publish and report on iono.fm.
To list a podcast on another platform currently requires manual submision of the podcast RSS feed. Our update provides better integration for this:
Providers can now configure the remote locations of a podcast channel.

Providers can specify the default limit of items in their RSS feeds.

We currently support some of the largest podcast syndicators, and this list will be updated in the future.
Supported: Apple iTunes, Player.FM, Pocket Casts, Google Play (Google Play only available in limited territories).
To get started, edit your channels and configure this information under the new "Other Platforms" section. Please contact us if there is another syndication service you feel we should support.
---
Initially the new "Subscribe" functionality is available on our website only, but we will update our embedded web player soon to include support for this.